It's So Simple!
Even Children & Elderly Can Use It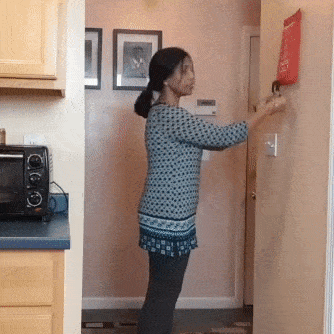 Easy Pull System
Just pull the tabs to release the Emergency Fire Blanket from it's case.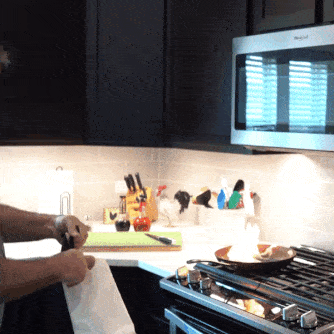 Suffocates Fires
Cover the fire with the blanket to put it out in just seconds!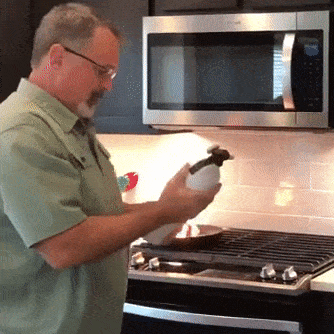 No Confusion
No bulky and complicated extinguishers that leave you with a mess to clean.
Every
Firefighter

Recommends Having One In Your Home!
We often take fire for granted as we're used to having it going our way, but when an accident happens and you spill some oil on the flames, you'd better have something handy to put them out if you don't want your whole home to go up in smoke.
In this case, fire blankets make for the perfect choice. Not only are they affordable and easy to use, they will also never fail you.
We recommend keeping one in the house per person. It's a one-time purchase that can save lives and thousands in damages.
Why Use a
Fire Blanket

Instead of a Traditional Fire Extinguisher?
🚨 Alarming Fact: 48% of all home fires start in the kitchen.
Most start from simple oil based cooking. A few tablespoons of oil at the wrong temperature and disaster can happen in the blink of an eye. They are more common than people think, yet it can happen to anyone.
Keeping an Emergency Fire Blanket in your kitchen is one of the most important decisions you can make for you and your family. Just pull the straps to release the fire blanket, cover it over the fire and it's instantly suffocated before getting out of control.
It's so incredibly simple to use, and for good reason. Even children or elderly can handle it. No more heavy, messy and complicated fire extinguishers.
We recommended keeping one in the house per person. It's a one time purchase that can save lives and thousands in damages.
Important
Fire Safety

Information
Fire is FAST! Major fires can erupt from a small fire in less than 30 seconds. It only takes several minutes for thick black smoke to accumulate in a house for it to be englulfed in flames.
Fire is HOT! Heat is the threatening part of flames. Room temperature in a fire can be 100 degrees at floor level and rise to 600 degrees at eye level! Inhaling this super hot air will scorch your lungs and melt clothes to your skin.
Fire is DARK! Fire starts bright but quickly produces black smoke and then complete darkness.
Fire is DEADLY! Smoke and toxic gases kill more people than flames do. Fire produces poisonous gases that make you disoriented and drowsy. Asphyxiation is the leading cause of fire deaths, exceeding burns by a three-to-one ratio.
Try Fire Blanket Risk-Free
If you're not happy with your purchase, we'll refund your money.
Real People. Real Results.
Kimberly
Verified Buyer
Get one before this happens to you!
"Our kitchen mess after a minor grease fire melted the bottom of the microwave. We spent about $600 replacing stuff and on cleaning products, plus about 20 hours scrubbing soot, dust, and molten plastic. If I had known these existed and thrown one over the stove instead, problem solved. Now I know too late, save yourselves the trouble! We ordered 3 blankets for our home and will never look back!"
Cheryl K.
Verified Buyer
"I feel that this is a must for anybody and a safer way to put out a small out of controlled fire."
Haru
Verified Buyer
"I bought this based on a friend's recommendation, but luckily I haven't had the chance to put out a fire with it. The order comes with two fireproof blankets. I keep one next to my kitchen stove, keep the other one next to my campfire when I go camping. The material of the blanket is very well made, it's heavy in weight. The two straps are easy to hold on to if you need to grab the blanket out in an emergency situation. I am very satisfied with the quality and design so far. I will do another update when I finally get to use it to put fire out."
General
We ship all orders the following business day after your order is placed. You will receive a confirmation email with tracking information once your order is shipped. Most orders will arrive within 3-5 business days.
All products ship from our facility in California, USA.
Yes! We send out monthly discounts to subscribers of 'Tom's Letter' - our weekly email newsletter. You can sign up here.
We accept all major credit cards (Visa, Mastercard, Discover, Amex) and Paypal.

Products
No! All of our ingredients are approved by the EPA as minimum risk.
Yes! All of our ingredients are approved by the EPA as minimum risk when used as directed.
Yes! Mosquito TNT is bee-friendly and will not harm pollinators when used as directed.